Dom här Carolina Buffalo BBQ Wings är inspirerad av Red Bamboo's buffalo wings i New York City, 140 W 4th Street.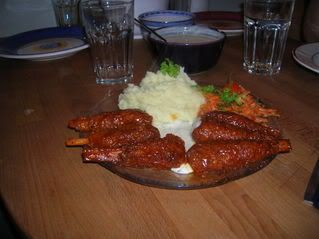 These Carolina Buffalo BBQ Wings are inspired from Red Bamboo's located in New York City, 140 W 4th Street.
Att fixa till den här jätte goa Redneck maten måste man nog importera lite Buffalo Wing sås från North Carolina, come on and raise up...take your shirt off och blanda med lite grill sås! Det skulle ge dig det bästa resulat men det finns andra vägar.
A. Sås Ingrediener:
1. en honung flaska (one cup Honey)
2. en BBQ grill sås flaska (two cups BBQ sauce)
3. äppel vinager typ 1dl. (3 tbs. cup apple vinager)
4. en liten rödd chili (one red chili pepper)
5. 2-3 tsk. svart peppar (2-3 tbs. pepper)
6. 1 tsk. vit peppar (1 tbs. white pepper)
7. VITÖK VITLÖK runt 3-5 klyftor. (GARLIC GARLIC, 3-5 minced cloves)
8. örtsalt som du vill. (herbsalt found at wholefoods, etc...)
9. paprika eller chili (paprika)
10. hackad lök (chopped onions)
Blanda allt i en liten kastrull och värm för typ 20minuter eller tills veggie kycklingen är färdig.
(mix it all in a pot and heat for about 20 minutes or until the soy chicken is done fried).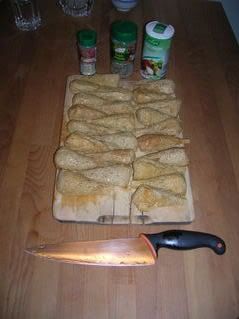 B. Kyckling:
1. Köp två påsar soya kött kyckling på den närmsta Asiatisk Livs Affär.
-salta och peppra lätt sen på högsta temp. värm en stor kastrull full av rapsolja (the good shit inte Brollio eller va fan det heter) för 15-20 minuter och sen lägg i kycklingen för 5-8 minuter tills dom är guld bruna. ta ur kycklingen och torka med lite papper.
(buy 2 bags of soy meat/chicken at any local Asian Market)
C. Blanda ihop allt! (Mix it all together!)