Black Panther Party Survival Programs, a quick history lesson before cooking.
Here at Undergroundcooking Black (Panther) History month is every month and whenever we decide that it is a good time to plug one of the greatest revolutionary groups in US (modern)history. With the Panthers small and nobel beginning in 1966 in Oakland, CA it later spread all over the US and all over the world. They are most famous for their black jackets, shotguns, and shoot outs with pigs; the Panthers lasting and most important program was the free breakfast for children which feed 10,000 some children free hot breakfast every morning. The Panthers did more than the US government will ever do for working-class children, each one teach one! With the Panther survival programs children not only got hot food in their bellies but also received revolutionary consciousness, the most important food of the food groups!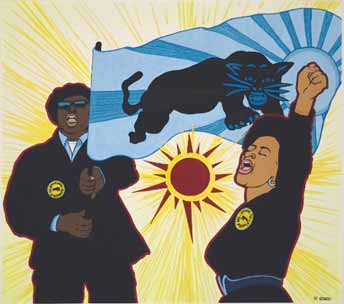 Grits. Free grits is what scared the FBI into wanting to eliminate the Black Panther Party because everyone in the black community could get behind grits. From grits to guns! Hoover is now dead, and goody!
"At the street level the Black Panther Party began to develop a series of social programs to provide needed services to black and poor people, promoting thereby, at the same time, a model for an alternative, more humane social scheme. These programs, of which there came to be more than 35, were eventually referred to as Survival Programs, and were operated by Party members under the slogan "survival pending revolution." The first such program was the Free Breakfast for Children Program, which spread from being operated at one small Catholic church, to every major city in America where there was a Party chapter. Thousands upon thousands of poor and hungry children were fed free breakfasts every day by the Party under this program. The magnitude and powerful impact of this program was such that the federal government was pressed and shamed into adopting a similar program for public schools across the country, while the FBI assailed the free breakfast program as nothing more than a propaganda tool used by the Party to carry out its "communist" agenda. More insidiously, the FBI denounced the Party itself as a group of communist outlaws bent on overthrowing the U.S. government."
"In Chicago, the outstanding leader of the Panthers local, Fred Hampton, led five different breakfast programs on the West Side, helped create a free medical center, and initiated a door to door program of health services which test for sickle cell anemia, and encourage blood drives for the Cook County Hospital. The Chicago party also reached out to local gangs to clean up their acts, get them away from crime and bring them into the class war. The Party's efforts meet wide success, and Hampton's audiences and organized contingent grew by the day."
(http://en.wikipedia.org/wiki/Free_Breakfast_for_Children)