Underground Cooking träffades så klart under midsommar för att fira sommarsolståndet och dansa kring fruktbarhetens ståtliga stång för att främja tillväxten på våra balkongodlingar i Biskopsgården. Denna
tyska danstradition
tog UKF's förfädrar- och mödrar med sig till vårt underbara land på 1300-talet under något som kom att betecknas som historiens första matresa, iallafall den första revolutionära av sitt slag.
Ur familjens fotoalbum
På kvällen samlades vi kring matbordet och avnjöt en fondue i sann kommunistisk anda. Sojakött, svamp, grönsaker och rotsaker doppades hej vilt i Em Lee's kittlande goda rödvinsfondue. Till efterrätt lagade en av gästkockarna en rabarberpaj innehållande coccos och riven ingerfära. Vi skålade och firade den fortsatta inflyttningen till vårt revolutionära fäste i Biskop. Välkommen hem Ponyboy!
Rödvinsfondue
1 gul lök
1 flaska rött matlagningsvin
7 dl vatten
0,5 dl koncentrerad grönsaksfond
2 tsk soja
1. Hacka löken och lägg den i en kastrull. Häll i vin, vatten, fond och soja och koka upp. Sjud några minuter.
2. Duka fram kött och tillbehör.
3. Sila över i en fonduegryta och ställ den över en spritlåga på bordet. Spetsa köttet på långskaftade fonduegafflar och koka det i buljongen.
Våra tillbehör: Champinjoner, blomkål, broccoli, morötter, paprika.
Såser: Rhode Island, och Örtagårdssås (receptet kommer en annan gång).
Vi sparade resterna från doppet och rödvissåsen och lagade en saftig köttgryta dagen efter.
Wikipedia:
Fondue
DEL 2: Bohuslän är Inlagd!
(Distilled Vinegar)
Inlagd (Tofu)Sill, Eller Pickled Terring(Herring)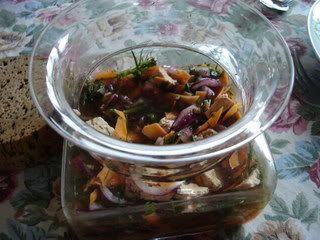 Man kan inte fira Midsommar utan Inlagd Sill och i hur många är somhelst har vi? Men Nu! Här finns det!
Mild Inlagd Tofu.
1. haka två röda starka lökar i små bitar.
2. riv en stor morrot
3. klipp i mycket färsk Dill!
4. skiva Tofu i små långa bitar och bada dom i lite Balsam vinäger, citron peppar, örtsalt, och färsk Dill!
5. 1/2dl. ättika, 1dl. vatten. Hur starkt vill du ha det(mer eller mindre ättika).
ENGLISH EXTRAS
Midsommar is a pre-historic traditional holiday that celebrates the Summer Solstice and fertility but lately it is mostly an excuse for alot of Snaps(schnapps)and other festivities. Anyway, the tradition goes, dress up a May pole in Birch branches leaves, flora from the fields, gather the neighbors and families, and dance around the falic symbol.
1. chop 2 red onions into small pieces.
2. shred a large carrot and chop into bits
3. cut lots of fresh dill.
4. cut tofu into strips and bath in basamlic vinegar peppered with lemon pepper, herbal salt, and fresh dill.
5. pickle it all in 1 part distilled vinegar and 2 parts water, 1/2dl. distilled vinegar and 1dl. water.